Additional Images

Laptop Desk
This desk with its chunky desk top has ample space for writing and laptop work. It has a unique tapered leg style and two drawer detail with silver effect handles.
One drawer front flips down to provide a keyboard shelf or compartment, while the other can be used as a normal stationery drawer. Available in the following finishes: Jamocha Wood, Oiled Oak or Soft White.
Catalogue Code: LAPTOPDESK Go Back »
Home office laptop desk
Desk provides ample space for writing and laptop work
Unique leg styling
'Flip down' keyboard shelf / drawer
Additional stationery drawer
Chunky desk top
Side panel inserts
Tapered leg detail
Help Requesting A QuoteClose
Step 1. Adding Product(s)
For all products that you are interested in, select any options / features you require from the panel options under the heading "Get Quote". For example, you may have a choice of colours, fabrics, arms etc (see example screenshot below).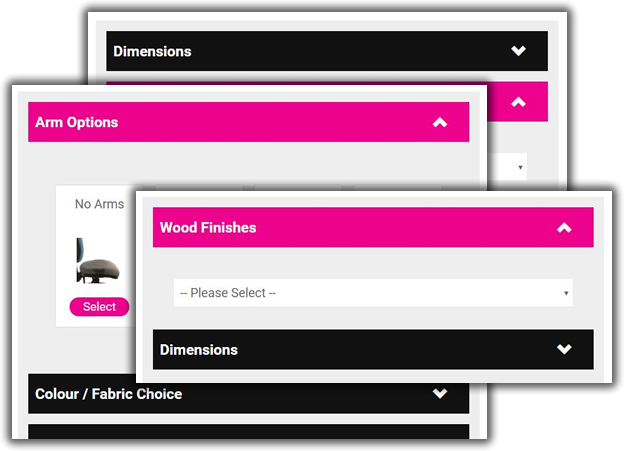 Once you have selected the options from the panel(s), you can select the quantity you require and click the "Get Quote" button.
Step 2. Reviewing Product(s) Selected
Click on "Your Quote" at the top of the website. Here you can see products you have added to your quotation and can alter the quantities if necessary.
Step 3. Submitting Your Quote Request
Finally click the button "Click Here to Get Your Quote" which takes you to a form where you add your contact and delivery information.
Once you have filled in all of the required information, click on "Request Quote". This will send your quotation request through to our sales team who will confirm pricing for the product(s) you have selected.