Additional Images

Pure
Pure is our modern take on affordable desking. This modern desk range offers a bench impression without the restriction of shared components, making reconfiguration of your office at a later date much easier. Pure offers an extensive portfolio of unique desk top shapes in both 800 and 600mm deep and also has 2 tone colour options as standard along with cost saving combination desks.
Pure Bench is a very competitive shared component solution. Available in both 800mm and 600mm deep with central modesty design, Pure Bench is ideal for cable trunking style power and data in Schools and Universities. Desktops can be scooped on the back edge or supplied with cable ports at no extra cost. Legs are pre drilled for screen brackets making the system work with triple tool rail screens for monitor arms. Cable ports as standard with an 80mm modesty panel opening make for simple cable routing using mounted cable trays.
Cable management is built into the pedestal
Leg sharing capability, extension frames, shared cable management and frame mounted screens
Pure Bench is available as a back to back or single run of desking
Help Requesting A QuoteClose
Step 1. Adding Product(s)
For all products that you are interested in, select any options / features you require from the panel options under the heading "Get Quote". For example, you may have a choice of colours, fabrics, arms etc (see example screenshot below).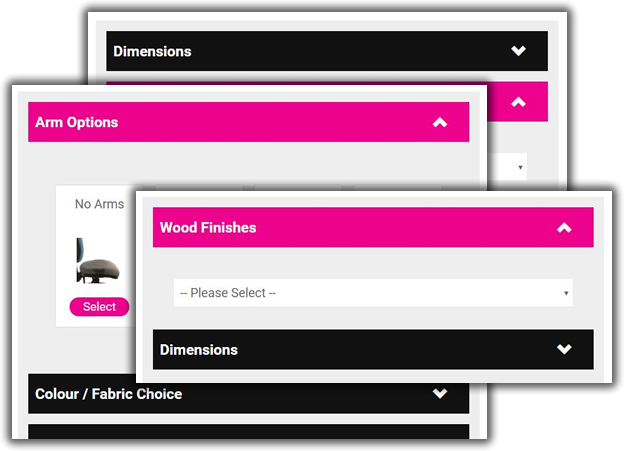 Once you have selected the options from the panel(s), you can select the quantity you require and click the "Get Quote" button.
Step 2. Reviewing Product(s) Selected
Click on "Your Quote" at the top of the website. Here you can see products you have added to your quotation and can alter the quantities if necessary.
Step 3. Submitting Your Quote Request
Finally click the button "Click Here to Get Your Quote" which takes you to a form where you add your contact and delivery information.
Once you have filled in all of the required information, click on "Request Quote". This will send your quotation request through to our sales team who will confirm pricing for the product(s) you have selected.