Additional Images

Fuze Stylish Bench Desking
Increasingly, businesses are moving away from dedicated single employee workspaces, towards more flexible working environments, and bench desk systems are the ideal solution for high density open plan workplaces. Fuze bench desks blend the best of European design with the highest workmanship standards to span a wide range of applications and support the most creative of workspaces.
Fuze bench desks provide the perfect answer for a less corporate modern office. The simple, flexible design naturally assimilates to the task or application at hand and the solid oak legs are built to last, exemplifying elegance and sophistication. Fuze's clean, functional lines and co-ordinated desktop finish options offer everything you need to be inspired and productive.

Catalogue Code: FUZE Go Back »
Sleek, curved lines of the solid oak legs
Featuring durable 25mm melamine worktops
Each desk has three scalloped cut outs in the 25mm tops
Vertical cable management allows cables to rise from the floor via mask cable risers
Desktops available in White and White with Oak trim.
Frames availble in White with solid Oak legs
Help Requesting A QuoteClose
Step 1. Adding Product(s)
For all products that you are interested in, select any options / features you require from the panel options under the heading "Get Quote". For example, you may have a choice of colours, fabrics, arms etc (see example screenshot below).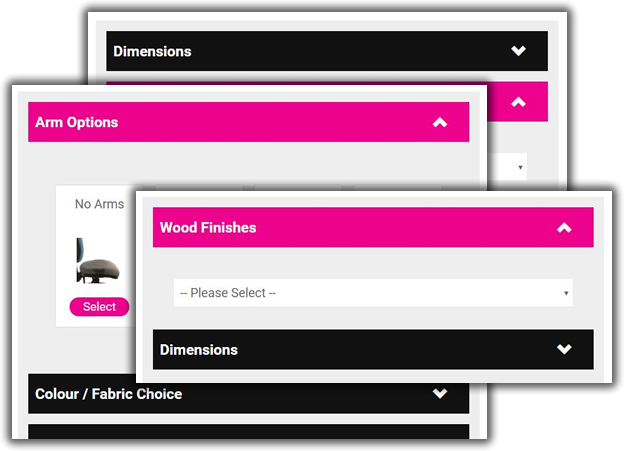 Once you have selected the options from the panel(s), you can select the quantity you require and click the "Get Quote" button.
Step 2. Reviewing Product(s) Selected
Click on "Your Quote" at the top of the website. Here you can see products you have added to your quotation and can alter the quantities if necessary.
Step 3. Submitting Your Quote Request
Finally click the button "Click Here to Get Your Quote" which takes you to a form where you add your contact and delivery information.
Once you have filled in all of the required information, click on "Request Quote". This will send your quotation request through to our sales team who will confirm pricing for the product(s) you have selected.